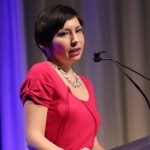 Gender Inc's founder, Debi Jackson, is a nationally-known advocate for transgender rights. She is the mother of a transgender child and frequently travels to speak about trans kids.
She was recently awarded the2016 Role Model Award by the National Education Association's GLBT Caucus.
Through her advocacy, she works with esteemed organizations such as PFLAG, the Human Rights Campaign, Gender Odyssey, and the Trevor Project. Her involvement with these organizations, as well as her personal connection to several thousand transgender adults and families with transgender children has enhanced her knowledge and understanding of trans-inclusivity needs and solutions.
Read her full curriculum vitae here.
A few of Debi's media appearances include:
That's Good Enough —  the Listen To Your Mother Show
Growing Up Transgender — KSHB
Mother Defends Transgender Child — Huffington Post Live
Online Interview — The Parents Project
Advice for America From Parents Who Support Their Transgender Kids — Buzzfeed
Time to Thrive — Human Rights Campaign Conference
Moms for Transgender Equality — Human Rights Campaign
You'd Love Your Transgender Child, Too…Right? — Parents Magazine