Many transgender people suffer from dysphoria about their bodies and can feel particularly vulnerable in a medical setting. Some will even avoid seeking regular medical care because of how they have been treated in the past.
Our training breaks down gender issues and offers guidance on the use of sensitive language, how to handle insurance and other paperwork complications, and to create an environment that will allow any gender non-conforming or transgender patient to feel welcome.
Most medical schools still only touch on the basics of gender identity and the trans population these days. And there are many medical offices with doctors and staff who have never been taught about trans identities. We begin by teaching about gender diversity, inclusion, and why supporting transgender patients benefits is so crucial. Without a solid understanding of what a transgender patient faces, many medical offices fall short in being truly supportive.
With our training, everyone in your office will learn why it's important to support gender non-conforming and trans patients, the dangers of not being supportive, and will be more likely to embrace non-discriminatory policies.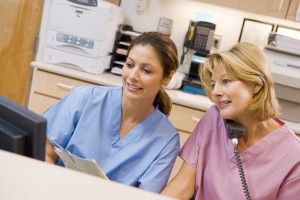 This training series covers:
Gender Identity and other Transgender Terminology
Gender Identity vs Sexual Orientation
Gender Presentation, Gender Roles
Transgender Umbrella
Non-Binary Identities
Myths vs Facts: Transgender Stats and Stereotypes
Mental Disorder that can be Fixed through Counseling, WPATH Recommendations
Too Young to Know
Not a Real Man or Woman without Surgery
Non-Discrimination Laws are Special Treatment
Trans People Aren't Happy After Transitioning
Understanding Privilege, Danger, and the Coming Out Process
Pronouns and Microaggressions
Discriminatory Terms/Practices
Put Yourself in a Trans Person's Shoes
How to React to a Coming Out Moment
Gender Messages All Around Us
Messages from Friends and Family
Messages from Society
Messages from Media
Imagine Being Transgender
Are You a Boy or a Girl?
Ages and Stages of Gender Identity Awareness
Stories of Trans Youth
The Importance of Affirming Youth, Statistics You Should Know
Welcoming Transgender Patients
Preferred Names and Pronouns
Intake Forms, Insurance Forms, Prescriptions
Medical Records and Confidentiality
Gender-Neutral Language
Bathrooms & Paper Gowns
Touchy Questions and Exams
Problems Accessing Medical Care
Discrimination Statistics
Physical Discomfort with Exams
Fear of Judgement
Insurance Barriers
It's Not Always About Transition
Trans People DO Need Typical Medical Care
Do NOT Veer Non-Trans Needs towards Trans Conversations
Do NOT Rely on Your Patients to Educate You
Navigating Insurance and the Law
Mismatched Identity and ID Cards
Coding Tricks of the Trade
Letters for Coverage, Surgeries, Name & Gender Marker Changes
Messages from Parents of Trans Children
Explain Gender Non-Conforming Behavior Early
Believe Us When We Come To You for Help…We Are Afraid
Ask About Body-Part Terminology that Makes Kids Comfortable
Understand Blockers & Hormones Even if You Aren't the Prescriber